This boring and retarded web page will be filled with facts and hopefully pictures of the guitar God.....Tom DeLonge from Blink 182......read on and remember aliens exist.
Here's some info on contacting me.....
e-mail me at wiccanfreak13@hotmail.com or IM at Bibble182 on aol im. Well.....here goes.....

Tom DeLonge met fellow bandmate (Mark Hoppus...the bassist of the band) back in 1992 when Mark's sister Anne introduced the two. They instantly clicked when Mark tried to impress Tom by climbing a telephone pole and jumping off, cracking his heels, needing crutches for a few months after. They began writing music in Tom's garage in 1992. It was there they decided to recruit a drummer....entrance Scott Raynor....the band's first drummer.
Scott made Flyswatter (the band's first demo tape), Cheshire Cat (their first album), Buddha (a compilation album), and Dude Ranch with the band. It was then he decided to quit to go to college...his education was more important to him than being in the band...
Blink decided to get Travis Barker as their new drummer and made Enema of the State (a comeback album where everyone first heard them), The Mark, Tom, and Travis Show (The Enema Strikes Back) (a live album), and their newest release, Take Off Your Pants and Jacket.
.....That's Blink 182 in a nutshell.....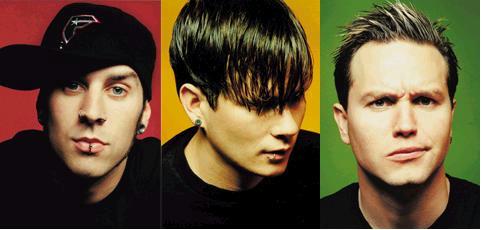 Click here to see my hot celebrities page...it's not finished but there are a few pics!
Virtually Marry Tom...or Mark...or Travis..or anyone you want!
http://www.urban75.com/Mag/bubble.html